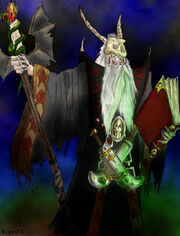 Nekromanti jsou smrtelníci, kteří praktikují magii smrti, běžně označovanou jako nekromancie.Způsoby získavání jejich zkušeností pramení od arkány. Přesněji jde o manipulaci s životem a smrtí. Tito muži a ženy, byli velicí nápomocníci při formování pohromy v Lordaeronu. 
Nekromanti jsou kouzelníci, kteří díky svým schonpostem manipulují se smrtí. Ve využívání této moci, si nekromanti zahrávají, neboť se velmi často stává, že propadnou moci tak, že se stanou jedním z nemrtvých. Nekromanti využívají arkánu, k manipulaci se smrtí. Nemrtví nekromanti jsou charakteristyčtí jediněčným vzhledem: Duté oči, kolébavá chůze, bledá a vrásčitá kůže, odporný pach apod...
Nejvíce moderních nekromantů bylo vyškoleno Kel´Thuzadem a jeho agenty v Caerdarrow, v podzemní škole Sholomance. Také známé jako škola Nekromancie. Překvapivě, škola nikdy nebyla objevena agenty koruny a tak zůstala nedotčena až dlouhou dobu po skončení třetí války. Škola obsahuje pozoruhodné postavy jakou jsou Lič Ras Frostwhisper, a dosavadní ředitel Darkmaster Gadling.
Počátky nekromancie sahají do první války, kdy Gul´dan a jeho nekrolyti vyvynuli schopnotst probuzení mrtvých, kteří by jim sloužili jako kostlivci. (Jednalo se o padlé bojovníky Hordy) Ale nekromanti jsou tu již se vznikem Natherezimů, kteří byli vůbec první bytosti, kteří oživili padlé elfy.
Zdroj: wowwiki.com
Ad blocker interference detected!
Wikia is a free-to-use site that makes money from advertising. We have a modified experience for viewers using ad blockers

Wikia is not accessible if you've made further modifications. Remove the custom ad blocker rule(s) and the page will load as expected.