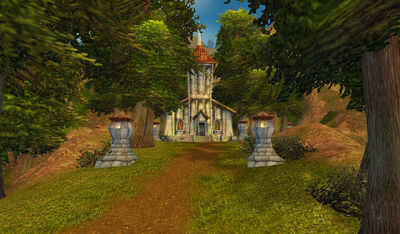 Andorhalský kostel, jedna z orpavdu prvních staveb, která zde byla vybudována. Pamatuje si skutečně téměř celou historii města tak, jak probíhala. Jeho stáří je úctyhodné, ale nikdo přesně neví, jak starý ve skutečnosti je. Pamatuje dny největších sláv Andorhalu, ale také dny smutku a utrpení. Jedna z legend praví, že místo, kde kostel má být vystavěn našel potulný kněz, jehož tajemná moc světla ho dovedla až sem. Putoval prý několik let, nežli našel ono místo, jenž vídal ve svých snech. přesvědčil místní obyvatele, a stavba kostela začala.   Kostel samotný byl několikrát přestavován až do nynější původní podoby.
Sepsal: CollEdit
Ad blocker interference detected!
Wikia is a free-to-use site that makes money from advertising. We have a modified experience for viewers using ad blockers

Wikia is not accessible if you've made further modifications. Remove the custom ad blocker rule(s) and the page will load as expected.