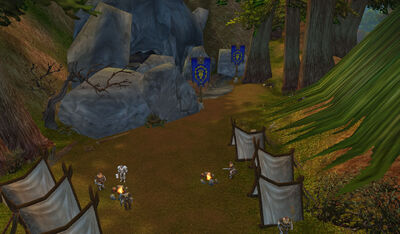 Je to vlastně jediná připomínka druhé války v tomto kraji. Tábor plný orků, který hlídají žoldáci, vedení  Edmundem Fallierem . Orků tu je několik stovek a jsou umístěni v jeskyni, která slouží jako téměř dokonalé vězení. Lidé z měst se orků a táboru bojí a neradi jej navštěvují. Někteří lidé se mu radši i vyhnou a změní cestu, na které si zajdou i několik kilometrů, jen aby nemuseli jít kolem těchto hrůzu nahánějících tvorů. I když Orkové jsou zavřeni uvnitř a zahlédnout je, je většinou téměř nemožný úkol. Lidé mají prostě strach už jen z vyprávění o hrůzách, které způsobili. Dokonce existuje i pár organizací, proti umístění tábora, ze kterého, jak tvrdí, může kdykoli utéct šílený ork a povraždit celou vesnici.
Sepsal: CollEdit
Ad blocker interference detected!
Wikia is a free-to-use site that makes money from advertising. We have a modified experience for viewers using ad blockers

Wikia is not accessible if you've made further modifications. Remove the custom ad blocker rule(s) and the page will load as expected.