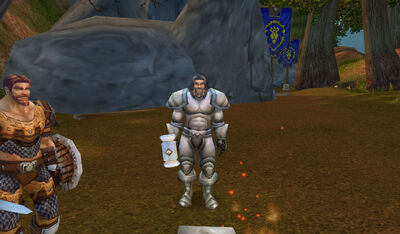 Přišel sem s jediným úkolem – postavit a zabezpečit internační tábor. Jakožto veterán z druhé války to považuje za svoji povinost a nutnou službu království. S tímto úkolem byl odvelen od své jednotky, které velel a dostal přiřazenou jednotku žoldáků, které má ted na starosti. Téměř všechen čas se vyskytuje v táboře a ve městě jej téměř nepotkáte. Lidé si rádi vymýšlí a vypravují legendy a příběhy. O Edmundovi Fallierovi se povídá, že prý zabil stovku orků jen holou rukou. Jeli to pravda, nikdo neví, ale vždy, když přijede do města, všichni kluci se seběhnou a obdivně hledí na tohoto udatného válečníka. Často bývá hostem Rodricka Hammera, s kterým si mají vždy co říci a jsou velkými přáteli. Celá jeho rodina padla ve válce a tak jeho služba v armádě dostala celoživotní poslání a také osobní rozměr.
Charakter
Edit
Edmund je, byl a bude zasažen válkou. Padla mu celá rodina, což odráží jeho nenávist k orkům. Armáda je vším, co má a je jí plně oddán a jeho život nemá pro něj osobně žádnou cennu. Lidé ho díky legendám znají a obdivují ho. Jeho to však nechává naprosto chladným a někdy dokonce i rázně dá najevo, že mu to je jedno a at ho lidé neotravují. Vzhledem k tomu, že si rozumí s Hammerem, který je paladin, tak se dá očekávat, že jeho srdce je dobré a úmysli čisté. I když je znát jeho horkokrevnost
Sepsal:CollEdit
Ad blocker interference detected!
Wikia is a free-to-use site that makes money from advertising. We have a modified experience for viewers using ad blockers

Wikia is not accessible if you've made further modifications. Remove the custom ad blocker rule(s) and the page will load as expected.